Bulgaria's National Strategy for the Child 2019-2030 withdrawn following disinformation campaigns
Eurochild member National Network for Children in Bulgaria (umbrella for 152 civil society organisations) has been the forefront of tackling backlash against children's rights. The child rights organisation raises growing concerns around national policies becoming hostage to speculation, disinformation and fake news
They report: "The (draft) strategy was attacked with false and provocative claims that it is diminishing the rights of the parents and that the state and the social services will be able to take away children from their families "based on the Norwegian model of child protection". Narratives began to dominate the public discourse, arguing that Bulgarian children would be taken away from families for banal reasons, such as a refusal to buy a toy or ice-cream to the child and will be given instead to Norwegian gay couples for adoption. Subsequently, the attacks were not only focused on the Strategy but also targeted the whole child protection system, including foster care and home visits, the national (Europe-wide) telephone helpline for children 116 111, the activities of non-governmental organisations working with children, health and sexual education at school, and many other topics."
Protests were held outside the government buildings in Sofia, with an estimated 1,000 people with dozens of posters, reminiscent of neo-Nazi propaganda. A brochure photographed here shows an example of the propaganda aimed at the EU Child helpline 116 111 (addressed directly to children who seek someone to talk to and provide assistance) and obliged to be provided by all EU Member States.
The civil society group National Network for Children further raises issues with the way the Bulgarian government dealt with the proposal and the fake news: "The Ministry of Labor and Social Policy and the State Agency for Child Protection failed (or refused) to explain to the citizens what policies are envisaged with the new Strategy and why they are important. Instead, the complete silence was followed by a statement by Prime Minister Boyko Borisov that the Strategy is withdrawn and it will not be adopted."
This is not the first occasion of backlash against rights groups where the government has failed to respond to disinformation campaigns. In 2018, Bulgaria failed to ratify the Council of Europe Convention on preventing and combating violence against women and domestic violence in the midst of similar public and institutional crisis, provoked by false claims that if Bulgaria ratifies the Convention, it will also have to introduce same-sex marriages and a "third gender".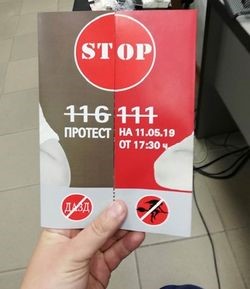 For more information or to organize media interviews, please contact:
Teodora Petrova
Communications Director
National Network for Children      
Phone +359 2 988 82 07
Mobile +359 88 641 3073
E-mail: teodora.petrova@nmd.bg